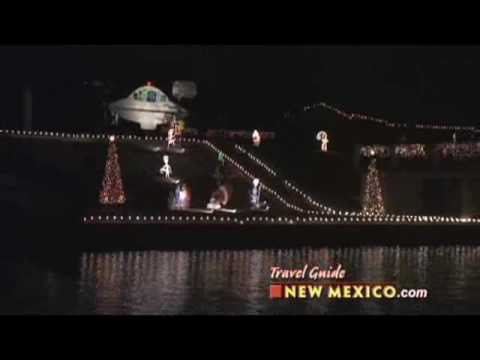 Youtube Favorite: Travel Guide New Mexico tm Christmas on the Pecos, Carlsbad, New Mexico
From YouTube:
Winter in Carlsbad isn't about snow, ice or cold. It's about warmth. The warmth of the holiday season. And families coming together. Carlsbad, New Mexico is alive with the ultimate celebration of the season – Christmas on the Pecos River.

This magical vista is created by over 100 homeowners who spend hours decorating with care. Each house is unique. From the Christmas in the Desert Southwest theme at one home to Santa's Play land at another, Carlsbad NM residents show their creativity as much as their community pride. Each year the Holiday Season on the Pecos wraps itself around the riverfront, illuminating backyards, boat docks and islands with millions of lights. The Pecos River Holiday Lights shimmers with color. Wise men and angels glow on sloping lawns. Giant margarita glasses and bright stars reflect on the water.