Escape the Summer Heat by Swimming in Carlsbad, New Mexico
If you're looking for fun things to do in Carlsbad, New Mexico that will help keep you cool during its incredibly hot summers, consider swimming! Not only is it fun, but it's also a great form of exercise that people of all ages can enjoy together. Carlsbad, NM is home to a wide variety of places where you can go swimming including an indoor pool, the city's beach park, and some beautiful natural lakes at nearby state parks.
Do you sunburn easily or simply don't enjoy swimming in the great outdoors? If so, your best swimming option in Carlsbad, New Mexico is the Carlsbad High School Natatorium. Don't let the name fool you; while this aquatic center is part of a local high school, it is indeed open to the public year-round, with extended hours in the summer months. For just a few dollars, you can take advantage of its cool waters away from the intense New Mexico sun. Its facilities include a 50-meter lap pool, a shallow pool that's perfect for children, and a diving board for the daring teenagers hoping to show off their best dives to their friends.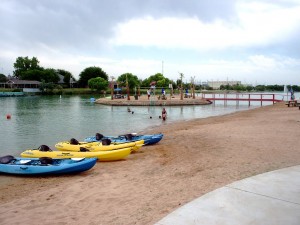 Those who prefer to spend the entire summer outside in the sunshine and love outdoor activities should instead visit Lake Carlsbad Beach Park located within the city limits. This recreation area covers an impressive 125 acres alongside the Pecos River that runs through the city of Carlsbad. In summertime, the beach area fills with people relaxing in the beautiful river scenery while kids splash around happily in the designated river swimming area.
When you tire of swimming, there are plenty of other activities you can do at Lake Carlsbad Beach Park. There's a playground to keep the little ones happy, while adults may be more interested in participating in water sports, fishing, or boating. In addition, the park features a sports complex with courts for playing tennis and racquetball as well as a few soccer fields. Once you've worked up an appetite with all that exercise, you can then head to one of the park's many picnic areas and enjoy a picnic or a barbecue.
Near the Beach Park, you'll find the brand-new Carlsbad Water Park. The Water park features swimming and pool fun for all ages!
If you're more interested in taking full advantage of New Mexico's spectacular nature areas, then head to one of the many state parks which allow swimming. The nearest one is Brantley Lake State Park, which is a mere 15 miles north of Carlsbad, New Mexico. There's plenty of space to relax on the beach or swim in beautiful Brantley Lake. The park provides restroom facilities complete with showers, so there's no need to worry about spending the rest of the day covered in sand. Visitors are also allowed to go boating and practice various water sports such as water skiing, kayaking, canoeing, and sailing on Brantley Lake. In addition, it has 2.6 miles of scenic hiking trails that are great for birding.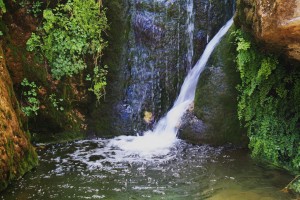 Finally, if you want a truly unique swimming experience, visit Sitting Bull Falls Recreation Area. Located just 40 miles from Carlsbad in Lincoln National Forest, these gorgeous waterfalls are one of the most popular attractions in the area. One of the best ways to enjoy their beauty is by swimming beneath them in one of the canyon's natural pools filled with cool, refreshing water.