Trinity Hotel
The Trinity building was built in 1892 as the First National Bank, where it once housed the first newspaper and later became the historic headquarters of the Carlsbad Irrigation District
201 S. Canal
Carlsbad
NM
88220
USA
Featured Lodging Hotels Restaurants
Trinity Hotel
201 S. Canal, Carlsbad, NM
The Trinity building was built in 1892 as the First National Bank, where it once housed the first newspaper and later became the historic headquarters of the Carlsbad Irrigation District. In 2007, three partners bought the building with the dream of restoring the decaying property. Many in the community said it couldn't be done, but today the old bank building is fully renovated and now the home to Carlsbad's finest dining establishment and nine luxurious hotel suites.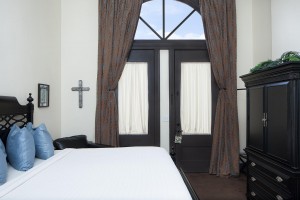 Welcome to Carlsbad's only distinctive lodging choice. Trinity rooms are all equipped with free Wi-Fi access, flat screen TV's, iPod docking stations, wine chillers, fine travel amenities, and our special Trinity robes. We pride ourselves on our remarkably comfortable beds, fitted with the finest sheets, pillows and bedding. Once you indulge in one of these magnificent suites, you'll never want to stay in an ordinary hotel room again.
2-4
Sleeper sofa. It also features an open-air Jacuzzi tub, 2 flat screen TV's and king size bed. A separate double glassed in shower with double vanity completes your stay.
2-4
This suite has an exposed beautiful brick wall. The backside of the original fireplace a nod to both modern and antiquity at the same time. Furnished with a queen four poster bed, large desk, 2 chairs and ottoman in the seating area.
2
Escape from the everyday in this truly peaceful space. A queen size bed, and large bathroom with glassed-in shower make this the perfect departure from the chaos of urban life.
Is this your business?
Contact us to improve your listing and reach.
0 People have Rated
No Reviews